William Wendell Bell (1901-1995)
LINE: A1 William Bell | B2 John Bell | C2 William Bell | D1 William Stevenson Bell | E1 William Steven Bell | F8 James Hugh Bell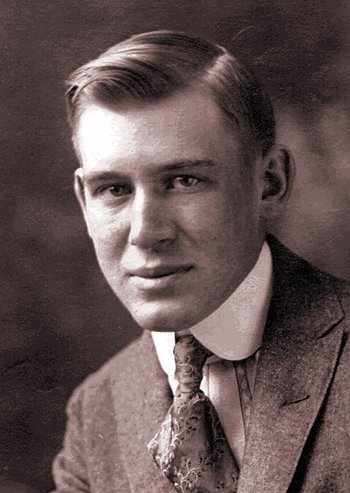 William Wendell Bell
(1901-1995)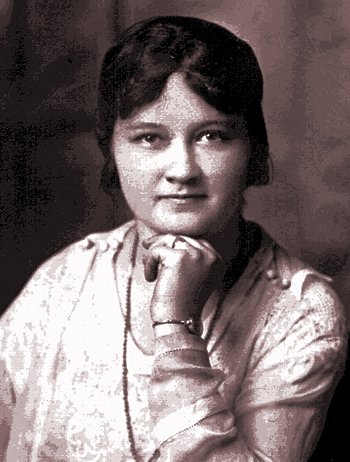 Stella Elizabeth Thompson
(1903-1995)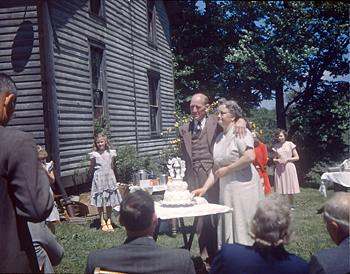 25th Wedding Anniversary, June 1950
of Wendell & Stella Bell
Bethel United Presbyterian Church
Enon Valley, Pennsylvania

G4 William Wendell Bell, born August 8, 1901, died October 6, 1995. Married Stella Elizabeth Thompson "at the brides home in Lackawannock Twp. on June 4, 1925". Stella was born on April 19, 1903, and died February 1, 1995. Five children. Source: William Steven Bell Family Bible - Births Marriages Wendell was a tall, gentle and very quiet man who lived well into his nineties. He was well educated and spent his time as a farmer, a teacher and later in his life, as a Raleigh salesman. I can remember the basement of their home in Enon Valley being filled with Raleigh products and I would purchase Double Strength Vanilla, the likes of which cannot be purchased in today's supermarkets. Grandpa Bell was always chewing tobacco and had a cinder driveway. I loved to go to visit, specially in the winter when we could skate on the pond next door. In the summer months we could get fresh peaches, concord grapes and apples form the orchards surrounding their modest home. I remember many Holiday dinners with the Oak table extended to its fullest size, and laden with fresh roasted turkey, mashed potatoes, corn pudding and grandma's rolls. After dinner, the table would magically shrink as my uncles dismantled it piece by piece and stored the leaves along with all the wooden folding chairs in the closet. I still marvel at how much that closet could hold. Stella Bell was a very round woman with white hair. She was very quiet and her eyes twinkled when she laughed. Anytime anyone would tease her she would draw her breath, frown and then give way to a giggle. Although she was quite shy, she did become President of the Women's Christian Temperance Union. She was famous for her sweet pickles and sticky rolls. Holiday dinners were always the best at Grandma Bell's house. Across the street from their home is where they now reside, in the peace and quiet of Bethel Church Cemetery. Behind the cemetery was a fenced area in which Ginger lived, the horse who once kicked my brother.

---
William W. Bell, 94; Mt Jackson teacher
William Wendell Bell, 94, of Enon Valley, R.D. 1, died Friday at Jameson Hospital following and extended illness. He was born August 8, 1901, to James Hugh and Eleanor Rebecca Junkin Bell. Mr. Bell taught at Mt. Jackson and Springfield high schools. He graduated from Penn State with a bachelor's degree in agriculture. He served as Justice of the Peace in Lackawannock Township. Mr. Bell was a retired Raleigh salesman and a master of the North Beaver Grange. He was a church elder, teacher, trustee and clerk of the session at the Bethel United Presbyterian Church in Enon Valley. He was also a member of AARP. Survivors include three daughters, E. June Fisher of Canfield, Ohio, Nancy A. Cornell of Houston and Elizabeth A. Arent of Enon Valley; two sons, W. Eugene Bell of M. Jackson and Hugh C. Bell of Myrtle Beach, S.C.; a brother Herbert H. Bell of New Wilmington; and a sister Alice E. Barrett of New Wilmington; 11 grandchildren and 13 great-grandchildren. Mr. Bell was preceded in death by his wife, Stella E. Thompson Bell, his parents; two sisters, Lois Reno and Mary White; and two brothers, Arthur and J. Ellis Bell. Friends may call 2 to 4 and 7 to 9 p.m. Sunday at the H. Ralph Cunningham Funeral Home, Bessemer. A service will be conducted by the Rev. William Hoffman at 11 a.m. Monday at the Funeral Home. Burial is in Bethel Cemetery. Memorial contributions can be made to the Bethel Church Memorial Fund.
---
Stella E. Bell, 91 Was Bethel United Presbyterian Member Stella E. Bell, 91 of R.D. 1, alternate State Route 551, died Wednesday afternoon in Highland Hall Care Center after a long illness. Mrs. Bell was born April 19, 1903, in Lackawannock Township, Pa., daughter of Charles and Nancy Dilly Thompson. She was a homemaker. She was a member of Bethel United Presbyterian Church and its women's association, and its Christian Outreach director and a Sunday School teacher. She also was a member of the committee for the Shenanago United Presbyterian Home, was past president of the Woman's Temperance Union and belonged to the Mount Jackson Women's Club and North Beaver Garden Club. She leaves her husband, William W., whom she married June 4, 1925; three daughters, Mrs. E. June Fisher of Canfield, Mrs. Nancy Cornell of Houston and Mrs. Elizabeth Arent of Enon Valley; two sons, W.E. of Mount Jackson, Pa., and Hugh of Myrtle Beach, S.C.; a sister, Mrs. Ella M. Bartholomew, of Greenfield, Pa.; a brother, William A. Thompson, of Baden, Pa.,; 11 grandchildren; and 13 great-grandchildren. Services will be at 11 a.m. Saturday in the church. Friends may call from 2 to 4 and 7 to 9 p.m. Friday at Cunningham Funeral Home.

2/2/95
---
Children of William Wendell Bell and Stella Elizabeth Thompson:
Source: Bell Family Bible: Addendum 1 Bell Family Portrait
---