Joseph Junkin III (1788-1857)
ANCESTRAL LINE: A1 Joseph Junkin I | B3 Joseph Junkin II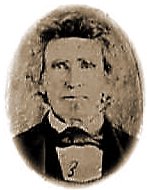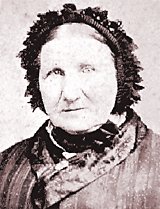 Photograph thought to be
of Sarah "Sally" Rambo

C7 Joseph Junkin III, born October 20, 1788 in Cumberland county, PA., died July 23, 1857 in Fairfield, Jefferson County, Iowa. Married December 20, 1808 Sarah "Sally" Rambo, born June 3, 1790 in Northumberland county, PA., died April 17, 1865 in Fairfield, Iowa. She was a daughter of Peter and Nancy Rambo. 11 children. (Source: Bible of Sarah Margaret Junkin) Joseph Junkin II served under his brother John's command in the War of 1812 in a company known as the "Mercer Blues", from Mercer, Pennsylvania. Joseph was a tanner by trade.



---
Memorandum of a Journey of Joseph Junkin III
Written December 24th, 1856

Memorandum of a journey I, Joseph Junkin, took to visit my relations In the East at the close of my 68 and beginning of my 69 year. I left home In Fairfield, Jefferson County, Iowa, on the 14 day of October, 1856. The first day I traveled in a hack to Mt. Pleasant. There took the railroad car at 3 O'clock P. M. thence to Burlington. Crossed the river at Davenport into the car and at 6 o'clock A. M. the 15 was in Chicago. Thence took the Southern Misigan train at 71/2 A. M. Traveled fifty miles to where the Misigan City and Layfyett [sic] train was at right angles for which I had to pay $1.50 and lost my ticket for that piece of a road, having taken my ticket through to Wheeling there I stayed 3 hours waiting on the train. Got it. Passed on through Tipecanoe [sic] Battle Ground to Leyfiett thence to Indianapolis waited about 2 hours thence to Dayton, Xenia, Columbus, Newark, Zanesville to Wheeling where I arrived at 5 o'clock on Thursday the 16. Lodged with Thomas Johnston. [October] 17 wandered about the City seeing my old acquaintances. Lodged with Wm. George Saturday the 18. Went to David Gervins to see my Grand daughter, Mary Ellen. Stayed all night Sunday the 19 attended divine service at Doct Weeds. Partook at the communion. In the evening walked over to Bridgeport on the way took dinner with John Hamilton supt with Adam Junkin [a descendant of James Junkin, a brother of Joseph Junkin I]. Lodged and breakfasted with Jackson Baggs left Bridgeport the 20th thence to through St. Clairsville. Morristown to Mr. Mulldins where my Grand-daughter Margaret Gibson [probably E4 Margaret Narcissa Gibson] lives - found her well. Stayed all night took her picture, left the 21. Came back to Wheeling in stage lodged with Thomas Johnston again, next day the 22 took stage at two and arrived In Steubenville at 7 o'clock. supt with brother Matthew. Seen all his family of 4 persons visited sister May Buchanan [probably C3 Mary Junkin]. Seen her family of 3 persons. seen John M. Galloway's family of 10 persons Wm. Buchanan family of 6 in all in Steubenville 23 Stayed in Steubenville 4 days attended Preaching on Sunday the 26 left at 10 o'clock A. M. on Monday the 27. Arrived in Wellsville at 12. Stayed at Wallace Fogo. Seen Harriett and 3 Grandchildren James Buchanan and family 4, in all 8 took the car the 26 went to Beaver took tea with Cousin Ann Irvin and family 6 in number took Canal Boat at 7 P. M. Arrived In Newcastle at 6 A. M. Breakfasted and boarded Jones Hack for Wilmington the 29. Dined with my Nephew and Niece Francis, visited Sister Nancy Bingham. Wm. Dickey Doct Popino A. Moor, Mr. Black. In all 28 lodged at sister Nancy's. 30 Eleanor Francis went with me in the Buggy to James Olivers seen his family of 6, thence to my daughter Nancy Hunter. Stayed all night visited her family 8 in all. On the 31 Nancy came with me to James Olivers, who sent his son with us in a buggy to A. Moors. Stayed all night. November lst. Sister Nancy and I got Frances Horse and buggy and went up to Brother William's. Seen his family of 6. Sabeth [sic] November 2. Went to Mercer. Heard Mr. Niblock and Mr. McNatty preach. They held a Sacrament of the associate Reformed Church of which I partook. I thought it my duty especially when my feelings became somewhat aroused from old recollections, to think that my Mother and Father were the first to be made use of in the hand of God in establishing a Church in that place and also that now there was but one solitary individual beside myself there to take a seat at that Holy Table. They all having passed through the dark valley and shadow of Death. That Individual was Betsy Findley. above I mention my Mother first before my Father because I consider her foremost in all such matters and If ever there was a Woman that deserved the name of a Mother In Isrel [sic] she was that woman. On Sabeth evening I went a mile out of town with Betsy Findley and her son David visited their family of 8. Stayed all night. Monday November 3 came into preaching visited all round took dinner with Mary Findley and John Withon (seen 3 relatives) in the evening David Findley sent his son with a buggy to take me to Coolspring to Easter [Ester ?] Rambos and Wm. Miller, her son-in-law none of them being home. I went in a carriage to James and David Rambos where I found Easter, took supper there and returned to Easters to stay all night. Next day being the 14th and Election day I went back to James and Davids and dined with them. David sent his son William with a buggy to take me back to Mercer. After visiting 19 relatives In Coolspring Township. Lodged with Mary Findley took dinner with David Findley and family on the 5th November his family 7 In number. He sent me in a buggy to Brother Williams where I stayed all night. Next day the 6, we went to Mercer and got our pictures taken. Stayed all night 7th November. William took me to Wilmington, where I seen all the friends the second time (after having packed up a clock and case that was made [that is the case] by my father about sixty years ago). Lodged with my sister Bingham that night on evening of the 8 November. Eleanor Frances took me in a buggy to James Olivers. Stayed all night on the 9th. James Oliver sent his son with a buggy to take me to Croton where Robert and Nancy Hunter had moved. Croton Is 3/4 of a mile above Newcastle on the East side of Nahanook [Neshannock] creek. On the 10th I left Hunters came to Newcastle took stage for Enon Valley there got in the car for Allegheny City crossed to Pittsburgh thence by car to Altoona where Brother David [X. Junkin] and wife were waiting for me but I missed them and had to stay all night. llth went in the morning train to Hollidaysburg. There I remained the 12th and 13th until evening, when I took the train for Altoona David coming with me. Thence same night to Harrisburg. 14 took the cars for Baltimore thence to Washington City thence down the, Potomac to Aquia Creek in Boat 40 miles thence by car Richmond where I arrived at 4 o'clock A. M. on the 14 day of November. The first man that boarded the car was Geo. W. Clutter my son-in-law who cried out you are the very man I am on the hunt of. I went with him home where I found my daughter Sarah. Ada and George W. Jr. well (on the 15th stayed pretty much about the house, with Sarah receiving calls from her neighbors among the rest Old Dolly Black woman that had lived with Sarah a long time and shook hands with me and says Old Massa I be so glad to see you. Old Massa Misses Fuder how you been this long time? ows Massa Willie and Missis Sarah Gibson? I be so glad to see you). Sabeth the 16 went to Preaching. In the evening I had a view of the Darkeys Going from church there was perhaps 300 passe along the street they were a set of as jovial Gentlemen and Ladies as you would see In any Country and well dressed the Gentlemen in there black mits and watch chains hanging out laughing and talking to the Ladies as they passed handing them along in dandy style the ladies being dressed soma In silks with their parasols fans and to prevent the sun from spoiling their Black Skins. I should not have said black for there was a Great Variety of Colour from tolerable white to a jet Black and but a few of the latter color but all appeared to enjoy themselves very well. They are almost all of the Baptist church and have, a white man to preach for on to them who they pay out of their own purse there being about 55 of them Church Members. There is also another church of Blacks called the African church to which about five to six hundred resort to hear preaching. Monday 16 took a stroll to the Capitol and thence down James River about three miles. Passed a stone building that was General Washington's head quarters. G. W. Clutter was with me in an omnibut [omnibus?]. Tuesday 17 visited the Capitol again spent some time in the Auditors office with G. W. Clutter the auditor and his Clerks of which there are eight. Sarah, Ada and G. W. Clutter, Jr. called at the Capitol in a carriage and were taken through the city for some hours. First down the river to a prominent point where we had a fine view of the City. The Penetentiary and Holeywood Cemetry thence through the City again up to Holiwood cemetry which is highly ornamented. Thence to the Penetentiary where we dismissed our Black men and Carriage. Wednesday 18 visited the Penetentiary of which Col. Morgan is Superintendent a very complacent gentleman who took great trouble in showing us (Sarah and myself) the Convicts of which he informed me there was three hundred and thirty four all of which are kept at work. Perhaps about 50 making axes and 50 shoemakers some spinning some weaving and some at a variety of different kinds of work and out of that number he informed me that about three fifths of them had never learned a trade of any sort and that about 4/5 of the convicts were sent there for a crime committed under the influence of ardent Spirits. After closing our visit we returned home and in the evening attended the Lector [lecture?] of the Rev. Mr. Hoge. Thursday 19th spent part of the day in making calls at different places among them called on Mrs. Glasebrook who made me a present of a pair of Guinia Pigs which I took the rounds with me and brought them home but they both died shortly after. Friday 20th November left Richmond for Lexington. Took the car as far as Stanton. Thence by stage 36 miles to Lexington where I arrived at brother George's at ll o'clock P. M. same day seen his family of 5 persons. On Saturday the 21st went with him to his farm which [is] a very hilly one that I would not wish to own. From there went 10 miles up the valley to see his son William who we met at the parsonate that is building for him. Thence back to Lexington over the hillyest and strangest country I ever seen to be a valley for such they call it but I would call it all hills and mountains without a valley. Sabeth 22nd heard Brother preach on the subject of emersion or diping as he called it. Monday 23 left brothers at 11 o'clock A. M. came to Stanton at 10 P. M. stayed all night left in the car at 6 o'clock A. M. of the 24 crossed the blue ridge came to Gordonsville. Thence to Alexandria crossed the Potomac in a boat to Washington City took the car for Wheeling changed cars at the Relay House and arrived in Wheeling, at 10 A. M. Monday the 25th traveling 560 miles same day took boat for Steubenville arrived at 6 P. M. took the cars for Cleveland with Louis James Junkin my Grandson. Landed In Cleveland at 11 P. M. stayed all night. At 6 A. M. the 27th took the cars for Sanduskey City, Toledo and Chicago where we landed at 7 P. M. Stayed all night. At 10 A. M. on the 29 took car for Burlington. Thence to Mt. Pleasant and on the 30th November stated it to Fairfield where we got to about 8 o'clock P. M. after traveling three thousand two hundred and fifty-seven miles Sixty Six by water and 317 by stage, canal boat and buggy and visiting 154 relatives not going further out in the connection than nieces and their children others that I did not see in the trip added to the above will make at least two hundred. Having now in Kansas some nephews and nieces, J. S. Bock wife and Daughter child and Granddaughter. S. T. Gibson at Council Bluffs, Iowa. My son Joseph living at Salina, Iowa, Mathew and Thos. Moomans his father-in-law. It is wonderful to see the changes that have taken place in the course of fifty years past. Pittsburgh when I first seen it [1806], the Corner where Liberty and Main or Market street meets was the outside of the town. Allegheny City there was nothing of it but old Mr. Robinson's house and a few Cabins up the river. Robinson offered my father 200 acres of land for $2,000.00 where the city now stands In 1806. Look what it is now a large city. There was not at that time more than probably 8 houses along the lower river from old Grighton to the mouth. Look at it now town all along. Newcstle had in 1807 I think three houses now It is a large town and spread over Shenango Valley. Neshannock Creek Wilmington was nothing but woods now it is quite a village. Mercer town has improved some but not so much as the other places. The country about the 3 latter places has improved very much notwithstanding the stonyness and roughness of the Country. I lived there ten years and that was longer than I would care to live in it again. However it has some endearing attachments. There my father and mother are buried with a number of dear and near relatives. There I married my wife Sarah Rambo forty-eight years ago this month the 20th day in 1956, there lies buried our son Joseph the first of our children that died aged 14 months. From there we moved to Westmildeton [West Middletown] in Washington County in 1816 and followed the taning Butchering and rafting lumber. From there we moved to Willsburgh Virginia. Lived there about three years then moved to Wheeling Va. in 1829 where I followed carpenter work for while and then got at the steam flooring business In 1831 at which I continued until 1842 made a considerable of money, but by endorsing lost it all. Came to visit Iowa In the spring of 1842 with my two oldest sons David and Joseph. Stayed about 3 months. Built a barn for John McMaken. Returned to Wheeling and [on] November 15th, 1842 left for Iowa. Got Icebound stayed at St. Louis 10 days left in a boat. Ice bound again. Went ashore at Portage De Sioux on the 14th December wintered there until the 7th April. Boarded again and landed in Iowa in Lee County the 23 [of] April. That summer built a barn for Asa Turner in Denmark and finished a house for James Foggy. Moved to Louisa County in Feb. 1844. Bought a steam saw mill in Harrison where my son David Died. Gave it up in March 1845. Moved to Jefferson County preempted 40 acres of land 3 miles south of Fairfield built a house on it and lived on it until June 1850 at which time all my children had left me. Narcissa got married to J. S. Beck. Mathew left for California in march and did not return till October 3rd, 1854. William had gone Into the Printing business. I rented my little place and moved to Fairfield. Built me a house in 1857. The time I had to build it in was very short. I commenced January 20 and moved Into it the first day of April, it little over two months (all the help I had was 28 days of a common laborer) where I am now living. I have truly had my ups and downs in this world but trusting in a kind Providential bed he has brought me through them all. And has been pleased to give me generally good health for which I am truly thankful. Joseph Junkin Sr.
December 24th, 1856
---
Children of Joseph Junkin III and Sally Rambo:
(Source: Bible of Sarah Margaret Junkin)
D1 David Findley Junkin, born February 12, 1810, died September 8, 1844. Married Harriet Walker November 13, 1834. Four children. D2 Eleanor Junkin, born September 24, 1811, died August 19, 1845 in Wheeling, (now West) Virginia. Married James Gibson July 13, 1831. Ten Children. D3 Joseph Junkin, 1st, born May 2, 1813, died August 14, 1814. D4 Joseph Junkin 2nd, born February 10, 1815, died October 16, 1908 in Red Oak, Iowa. Married Mary M. Cotton November 8, 1836. Nine children. D5 Nancy Galloway Junkin, born April 20, 1817, died January 12, 1897 at Beaver Falls, Pennsylvania, buried at New Castle, Pennsylvania. Married Robert S. Hunter May 3, 1836. Ten children. D6 John George Junkin, born February 19, 1819, died October 19, 1837. D7 Sarah Margaret Junkin, born June 16, 1821 in Wheeling, West Virginia, died August 6, 1900. Married George W. Clutter, captain in Mexican War and auditor of Virginia, June 21, 1837. Five children. D8 Mary B. F. Junkin, born February 24, 1824, died June 13, 1833. D9 Narcissa Doddridge Junkin, born April 21, 1826 in Wheeling, West Virginia, died December 28, 1891. Married James Shriver Beck March 1, 1849. Two children. D 10 Matthew Johnston Junkin, born May 16, 1829 in Wheeling, West Virginia, died May 21, 1887 in Fairfield County, Iowa; Married March 12, 1855 (1) Ellen E. Moorman, born September 11, 1835, died September 29, 1870 of typhoid fever. Nine children. Married (2) Ellen Sinclair, born ca. 1842, died November 26, 1871; married (3) Miss Mattie Shaffer. D 11 William Wallace Junkin, born January 26, 1831 in Wheeling (West) Virginia, died February 21, 1903. Editor Fairfield Ledger. Married Elizabeth Patrick September 14, 1854. Nine children.
---