Joseph Junkin I (1715-1777) Family History
Introduction
A1 Joseph Junkin I, born 1715 in Antrim, Ulster, Ireland where the family farmlands are said to have extended across the county line into County Down. Died 04/01/1777 in Kingston, Cumberland County, PA. Married Elizabeth Wallace c. 1743 at Peach Bottom, York County, Pennsylvania. Born 1724, died 04/10/1796 in Kingston, Cumberland County, PA., Daughter of John and Martha Hays Wallace of York County, Pennsylvania. All eight of the Junkin children are believed to have been born on the Cumberland County farm. Three of the sons, William, Joseph and Benjamin, were soldiers in the Revolution. Joseph Junkin I's forebears, originally Huguenots from France in the 16th century, emigrated from their home near Inverness, Scotland into Ireland sometime before 1688 during the Stuart's persecution. They, like Joseph, were Covenanters (Reformed Presbyterians) and were a strongly Calvinistic group. Their members sang or chanted only the Psalms in worship, and prohibited the use of instrumental music. They were Covenanters of the strictest type, and left their country for conscience' sake. Joseph Junkin I was born at Monahan, County Antrim, Ulster, Ireland, about 1715. He is thought to have been the son of John Lewis Junkin (1678-1762) and Margaret Lynn (born ca. 1680), (ancestry.com page for John Lewis Junkin) daughter of the Laird of Loch Lynn. This has not been documented.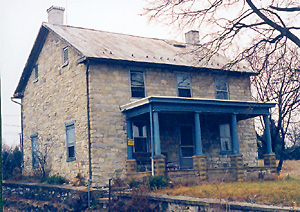 In 1735 or 1736, Joseph Junkin emigrated to the Colonies with his wife and two brothers Thomas Junkin and James Junkin. Joseph landed at New Castle, Delaware where uncles and cousins had previously settled. Thomas settled in Bucks County, Pennsylvania, while James chose Berks County, near Philadelphia. James had two sons, Adam (unmarried) and Benjamin who settled in the Sherman Valley of Cumberland County, Pennsylvania. He later moved to Washington County, Pennsylvania. Joseph tarried for a time in the vicinity of Oxford, Pennsylvania, before heading out for the Pennsylvania frontier.

Click to view a local news story on the topic of: CV Preservation Society raising money to move Junkin House, transform into museum.

Coming from the rural districts of the "old country", Joseph and Elizabeth sought the frontier, where lands were to be had for the "taking up," with small fees for records and surveying. It was to a virtual unbroken wilderness near Harris's Ferry, now Harrisburg, near the flowing Susquehanna and the present site of New Kingston, Pennsylvania, where about 1738, Joseph I brought his bride. It is said that at this time there were no settlers West of him, and of course none to interfere with his lines of survey. Life on the Pennsylvania frontier was seldom dull. Often the family was forced leave their dwelling at night, hiding in the cornfield or the "flaxpatch," for fear of Indian assault. In the year 1755, during the French and Indian War, the Junkin Family was forced to escape from savage barbarities by fleeing to Chester County, where they stayed for a season with relatives. Joseph Junkin I and his wife Elizabeth Wallace established the "Junkin Tent" soon after their arrival in what is now Cumberland County, Pennsylvania. This outdoor meeting place served the area as a church and services were held more or less regularly. It was here that the first Covenanter communion in the new world was celebrated. The Rev. John Cuthbertson, a Scotsman, served 250 communicants on August 23, 1752. According to Rev. Cuthbertson's diary, he baptized most of the Junkin children, and evidently headquartered at Elder Junkin's when he was in the vicinity. Known later as "Widow Junkin's Tent", it was a simple stand or dias, with a shelter for the minister, and a board on which to lay the Bible erected by Joseph Junkin I. On page 28 of the biography of George Junkin1 written by his brother David X. Junkin in 1871, the exact location of the "Junkin Tent' is revealed in the following quote:
"It was known from my earliest memory," says Dr. J. in his reminiscences, "as 'Widow Junkin's tent', and stood three hundred yards from the dwelling first erected by my grandfather (photo at right). About the dawn of my memory that 'tent' was removed one mile west, to James Bell's place." [possibly the site of the Bell Tavern, still standing in 1998 - Eric Davis].
According to this, the location of the 'Junkin Tent' would have been either on or very near to the present site of the home built by Joseph Junkin II in 1775, now known as the Kanaga House. The photograph above right is the stone house built by Joseph and Elizabeth Wallace Junkin about 1747 in New Kingston, Pennsylvania. This photo was taken in December, 1999 by Eric and Elizabeth Davis.
---
WITF-TV
Wed, 22 Apr 2009
14:57:26 EDT


Junkin Tent Historical Marker

(Harrisburg) -- Twenty-one new historical markers will soon be added across the commonwealth, including three in the midstate. The Pennsylvania Historical and Museum Commission has approved the signs, which are meant to tell stories about significant people and events. One marker will be placed in New Kingstown, Cumberland County, to commemorate Junkin Tent, the site of the first Reformed Presbyterian communion in the New World. In Franklin County, a marker in Mercersburg will honor members of the 54th Mass Regiment, the most famous African American unit of the Civil War. In Berks County, a marker will tell the story of Boyertown Burial Casket Company, which was once the second-largest company of its kind in the world and one of the first to be publicly traded on major stock exchanges. The detailed stories behind many of the 2,200 historical markers across the commonwealth can be found at www.ExplorePAHistory.com. The Junkin Tent Marker Announcement What historic event occurred in 1752 in the area that today is known as New Kingstown, Cumberland County, PA? ANSWER: Members of the Reformed Presbyterian Church, who fled Ireland because of religious persecution, conducted their first recorded Communion in America on this site. This week long event attended by 250 people, occurred on August 23, 1752 in a field on the centrally located farm of Joseph Junkin Sr., a Reformed Presbyterian member. The Reverend John Cuthbertson, a recent immigrant and their first ordained minister conducted the ceremony in a grove of trees. They formed a canopy for benches and the Bible stand: thus the nomenclature 'Junkin Tent'. Metal tokens denoting good standing were issued to those people whom the minister deemed worthy of receiving communion. Religious services were held regularly on this spot until 1817 when it was moved to another location. Although the Junkin home remains standing, the 500 acre farm was divided and developed into the area now known as New Kingstown - aka New Kingston, PA. The threatened demolition of the Junkin stone house on North Locust Point Road recently motivated a group of concerned citizens, aware of the historic significance to the community and posterity, to initiate efforts to preserve and protect this small, unique oasis of Cumberland County, PA. The first official accomplishment of this body is the designation by the state of Pennsylvania of the site of the 18th Century 'Junkin Tent' Communion. A Pennsylvania State Marker will be dedicated here on August 21, 2010 with invited dignitaries, descendants, and members of the Reformed Presbyterian Church of North America joining the public for a ceremony and related events. We urge all to support this historic preservation project and request those who wish to attend the dedication to view The Junkin Tent Project website. You will find a schedule for August 21st. the family history on the Junkins, and the Covenanters plus an order form for the purchase of Commemorate Coins. You can also order the coin by contacting our Treasurer Judy Norrie at 137 State Road, Mechanicsburg, PA 17050. 717-697-1441. Sincerely, The Junkin Project Committee
Children of Joseph Junkin I and Elizabeth Wallace:
B1 William Junkin, born 1744, died 25 April, 1825. Married 1769 Jane Galloway, born 8 January 1745, died 1786. B2 Mary (Polly) Junkin, born ca. 1747, died ca. 1825. Married John Culbertson and settled in Culbertson's Run, Mifflin County, Pennsylvania. No children. B3 Joseph Junkin II, born 01/22/1750. Died 02/21/1831. Married Elinor Cochran on 05/24/1779. B4 George Junkin, (died at very young age) B5 Agnes Junkin, born ca. 1754, died ca. 1834. Never married. She is buried at the Center Presbyterian church cemetery near Ft. Robinson, Perry County, Pa. It is the supposition that she perhaps lived with her brother Benjamin's family, residents of Perry County. Also in Agnes' will she left an inheritance to two great nieces, daughters of her nephew John, who was Benjamin's son. B6 John Junkin, born ca. 1756. Revolutionary War soldier, fought in the Battle of Brandywine in 1777. Never married. B7 Benjamin Junkin, born ca. 1761, died 1812 Perry County, Pa. Married 1799 Mary Davidson. B8 Elizabeth Junkin, born ca. 1763. Died ca. 1796. Married Dr. McCall of Shippensburg, Pennsylvania.
---