Matthew Oliver Junkin (1801-1882)
ANCESTRAL LINE: A1 Joseph Junkin I | B3 Joseph Junkin II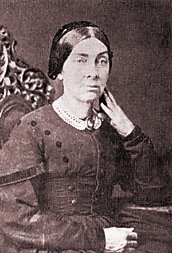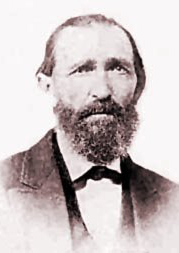 C12 Matthew Oliver Junkin, born May 28, 1801 in East Pennsborough Township, Cumberland County, Pennsylvania, died on December 24, 1882 in Steubenville, Ohio. In his words, he was, "born in the year one". In 1806 the family moved west to Mercer County, and it was here that Matthew spent most of his early life. He moved to Steubenville, Ohio in 1824, and on September 8, 1831, he married Rebecca Jane Buchanan in Fairfield County, Ohio. Six children. For a more in-depth portrait of Matthew Oliver Junkin and his wife Rebecca Jane Buchanan, see the Recollections of his grand daughter Mary Donaldson Sinclair. Rebecca Jane Buchanan was born on September 20, 1813, and died on July 22, 1887. She was the daughter of James Buchanan (1768-1828) and Jane Nelson (1770-1828). She was born in Lower Chanceford Township, York County, Pennsylvania. She, with her parents, migrated to Ohio in May 1825, crossing the mountains in wagons. All the towns along the way were decorated in honor of the nation's distinguished visitor, the Marquis de Lafayette. The Buchanans encountered the Lafayette procession between Uniontown and Wheeling. In 1828, only three years after their arrival in Ohio, Rebecca's parents died of fever on the same day, and within the hour. At the age of fourteen years, she was thus left an orphan with neither brothers nor sisters. She subsequently went to live with the family of her uncle, Rev. George Buchanan, of Steubenville, Ohio, arriving in Steubenville on the day that General Jackson was elected President for the first time, 1828.
---
The Steubenville Herald (Weekly)
Friday December 29, 1882
Page 5 OBITUARY

---

Another old friend and Citizen Joined the Majority,

The death of an aged, well known, and much respected citizen, M. O. Junkin, at his residence on Logan Street, at 5:30 P.M., Sunday, was although not unexpected, sad news to the people of this city. His age was eighty-one, and during all those years, he had been an active, energetic public spirited citizen, as to worldly affairs, which in the church he had been a Christian example and a faithful worker for the cause nearest to his heart. He has been a life long member of the U. P. church of this city, of which he has been a ruling elder for a great number of years. For several years he has been suffering from the infirmities attendant upon old age, and his death was therefor no surprise, although, all Sunday he seemed better, if anything, and was looking forward to the enjoyment of another Christmas. His family have the sympathy of the entire city in this, their great bereavement. "Life's fitful fever over, he sleeps well." Mr. Junkin was a native of Cumberland, County, Pennsylvania, and was born in 1801. He is a son of Joseph Junkin, who died in February 1831, aged 81 years, and who was an officer at the battle of Brandywine. The deceased came to this city in 1829 and in 1831 was married to Rebecca Jane, daughter of James Buchanan, a brother of the late Rev. George Buchanan. They had six children, only two of whom survive with the widow, Mrs. W. B. Donaldson and Miss Mary Ellen Junkin. Previous to Mr. Junkin coming to this city and before he was of age he belonged to the 121st Pennsylvania Rifles of which he served as a Captain, and later as Major. He was elected Justice of the Peace for this township in 1843 and re-elected again and again until he served in that office from eighteen to twenty years. He also served as a commissioner of insolvency. In September 1861 he was appointed Lieutenant of Company H., 30th Ohio, and remained in service for 16 months. He was mayor of the city from 1843 to 1847. In 1875 he was made the recipient of an elegant and handsome gold-headed-cane, as a token of respect from the members of the Bar and county officials in this county, he having filled local offices for over 32 years with ability such as to deserve this mark of esteem. Mr. Junkin has ever been held in high esteem, and in his declining years, though retired, shared equally of universal respect and regard. The funeral services took place this afternoon at the U. P. Church, corner of Fifth and North streets, Revs. Owens, Grimes, Reid and McLane taking part. In a series of resolutions read from the section of the church it was said that Mr. Junkin connected himself with that church in 1832 in Rev. George Buchanan's administration and was elected an elder on 1838. His widow, Mrs. Junkin, who was so much prostrated that she could not attend the services, and Mr. William Robertson are the only members living connected with the Church whose membership antedates that of the deceased.
---
The Steubenville Daily Gazette
Steubenville, Ohio
Friday, July 22, 1887
Front Page OBITUARY

---

Mrs. Rebecca Jane Junkin Rebecca Jane Buchanan, relict of the late M. O. Junkin, died at the residence of her daughter, Mrs. W. B. Donaldson on North Fourth Street, at eight o'clock this morning, of valvular affection of the heart. The deceased was born in McCalls Ferry, York County, Pennsylvania, September 20th, 1813, being in her 74th year. She was the daughter of James Buchanan who came to Steubenville in May, 1825, the route being decorated in honor of the visit of the Marquis de Lafayette who was our National guest. At the early age of fourteen she was left an orphan without brothers or sisters, her parents dying within an hour of each other, of typhus fever. She made her home with her uncle, the Rev. George Buchanan until her marriage. She was married in 1830 to Matthew O. Junkin, who for thirty-two years held local offices in Steubenville and was the best known Justice of the Peace in Eastern Ohio. Six children were born of this marriage, of whom two survive, Mrs. W. B. Donaldson and Mary Ellen Junkin. She also leaves two grandchildren. For fifty-five years she was a member of the United Presbyterian Church of this city, forty-four years of which her husband was a ruling elder, but for the past three years she has been in full communion with the Second Presbyterian Church. Few women of the city were better known, and for years was one of the most interested in charities, especially for the soldiers of the Mexican War, in which her husband served. Since last March she has made her home with her daughter, Mrs. Donaldson. Notice of the funeral in another column.
---
Children of Matthew Oliver Junkin and Rebecca Jane Buchanan:
D1 Ellen Mary Junkin, born 1832, died 1914. Unmarried. D2 Martha E. Junkin, died 04/15/1836, aged 3 months. D3 James B. Junkin, born 1835, died 1837. D4 Jane N. Junkin, born 1838, died 1840. D5 Emelda Bingham Junkin, born 11/19/1840, died 03/07/1922. Married 12/25/1861 William B. Donaldson (1837-1916). D6 George B. Junkin, born 1843, died June 7, 1854; killed when a gun accidentally discharged.
Portrait of Five Junkin Brothers, July, 1865
---