Emelda Bingham Junkin (1840-1922)
ANCESTRAL LINE: A1 Joseph Junkin I | B3 Joseph Junkin II | C12 Matthew Oliver Junkin | D5 Emelda Bingham Junkin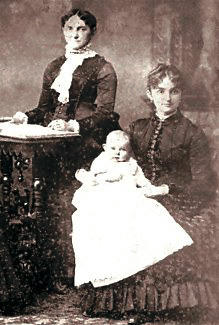 E1 Mary Donaldson, (seated at right in portrait) born October 30, 1862, died April 1, 1940. Married November 19, 1884 Dohrman James Sinclair, born July 29, 1860 in Erie, Pennsylvania, died 1915 in Steubenville. Five children. Dohrman was the son of Thomas and Katherine Dohrman Sinclair. Mary was educated at the Steubenville Female Seminary and Washington Pennsylvania Seminary.
---
Mrs. D. J. Sinclair Dies
After Short Illness
---
Heart Ailment Fatal Today to Member
of Prominent Steubenville Family
---
Mrs. Mary Donaldson Sinclair, socially prominent and active in numerous lines of public welfare here for many years, died at her home, 523 North Fourth Street, at 4:45 a. m. today. Mrs. Sinclair returned ten days ago from St. Petersburg, Florida, where she had spent ten weeks at the Hotel Deermont. She was ill when she came home and heart conditions became aggravated to such an extent that her condition became critical two days ago. News of her death was received with regret by the entire community. Mrs. Sinclair was born in Steubenville, the daughter of William B., and Emelda Junkin Donaldson, pioneer and influential early residents of this city. She was educated at Steubenville Female Seminary and Washington Pa. Seminary. She was a member of the Steubenville Seminary Alumnae. Mrs. Sinclair had the ability, education and refining personality that endeared her to others and made her a born leader in public endeavor. She was ever a gentle woman, with a queenly physical presence. She was always prominently active in church work, first in the Second Presbyterian and later Westminster Presbyterian church.

Authority on Genealogy

She was an organizer and was first president of the Y.M.C.A. She head of the Red Cross knitting for Jefferson county during the World War. She was organizing regent of [the] Steubenville chapter of D.A.R., and a member of the Daughters of the American Colonists. In recent years Mrs. Sinclair became an acknowledged authority on American Genealogy. She was awarded a certificate of merit by the council of the institute of American Genealogy, and a meritorious contribution to the archives of American genealogy. Her most recent accomplishments were the compiling and indexing of the first fifty years of marriage licenses of Jefferson county, comprising more than 10,000 names and indexing the early records of Jefferson county, which is the official record used by the D.A.R. headquarters in Washington, D.C. Her death closes a life of unbounded activity, one of cheerful industry for others in seeking out information about ancestors, when it was difficult to obtain. She had spent many days and driven over many miles seeking such information, for which there is no reward beyond a letter of thankful appreciation. Mrs. Sinclair delighted in helping others, doing so unselfishly, the very acme of public service. Five children were born to her union with Mr. Sinclair, One, Marie, wife of Henry Fay Grant, died in March 1917. These children survive: Wilma, wife of Garrett B. LeVan; Katherine Emelda, wife of Dr. Howard H. Minor; Frank Dohrman Sinclair and Dohrman James Sinclair, at home. These grandchildren survive: Garrett B. LeVan, Jr., Dohrman Sinclair Grant, Mary Carolyn and Katherine Evelyn Minor; also three great-grandchildren, Garrett Julian LeVan, Katherine Wilma LeVan and James Denison Grant; also one sister, Mrs. H. H. Henderson.
---
My grandfather, Matthew Oliver Junkin, often spoke of having been born in the year one - he was born May 28, 1801, and he died in December 1882. My earliest recollection pictures him as tall and thin - hair brown without much white in it - and a full beard. He was a very kindly man, and having served as Justice of the Peace for years before becoming Mayor of Steubenville he was familiarly called "Squire Junkin." He was elected to this office in 1843, and served so well that he was re-elected year after year until he had served nearly 20 years. He also served as a Commissioner of Insolvency. He was mayor of Steubenville from 1843 until 1847. He was a deeply religious man, inheriting the strict Covenanter ideas of his ancestors. He always asked the blessing at meals, and prayers at bed time, or as it was then called, "family worship." As a little child I can remember kneeling with the older members of the household while grandfather made a long prayer which never varied in its concluding phrase, "God make us so unspeakably happy as to receive us into His Kingdom an unbroken family - Amen." Although his eyes became affected during his last years, and he was nearly blind, his place in the old United Presbyterian Church was occupied rain or shine as Long as he was able to walk there. His pew was in the "Amen" corner of the church, a small block of pews on either side of the pulpit and facing it - placed at right angles with the main body of the congregation. The Junkin pew was on the right side of the church and on the lefthand side sat the choir. Martin Luther Miller was the percenter or leader of the singing. Only "Psalms of David" were used in the congregational singing, and I still remember that when the minister read out the Psalm, Martin Luther Miller struck his tuning fork on the, back of the pew in front - held it to his ear to make sure of the pitch - and then started the singing. A church organ was never used in those days as it was a worldly instrument, and when a small portable organ was finally installed, there were godly souls in the congregation who arose and walked out saying that they would never return "until that instrument of the Devil was removed." My Grandfather was also a singer, and his quavering voice Led the tune from the "Amen" corner on his side of the church. I remember there were wooden foot stools which made a great clatter on the bare floor when the people arose to sing. Grandfather was an Elder and was held in great respect by his fellow-worshippers. At prayer meeting Elder Junkin could always be depended upon to make a long prayer when called upon. I remember the day of his funeral - the church was filled with friends and relations. Dr. A. M. Reid, head of the Steubenville Female Seminary made one of the addresses, and I was impressed with his fine tribute to Grandfather's character, particularly when he said, "M. 0. Junkin was one of the strictest adherents to the truth in his statements that I ever knew; he weighed each sentence carefully, and one could always depend on his word." (In the United Presbyterian Church, corner of North Fifth and North Streets.) In the Steubenville Gazette of June 30, 1876 is an article headed, "Song for the One-Hundredth Anniversary" - and it told of a song composed and sung by A. 0. Junkin on July 4, 1826, at a celebration near Mercer, Pennsylvania, he being then Major in the 2nd Battalion, 121st Rifle Regiment, Pennsylvania Volunteers, and the son of a Revolutionary officer who had been wounded in the Battle of Brandywine. The second song was composed in 1876, 50 years later, and is sung to the tune of the Star Spangled Banner. This second song was composed and sung in Steubenville. When he finally became too infirm to carry on office work, the members of the bar and County officials, as a token of their esteem, presented him with (as the newspaper account said) "an elegant gold-headed cane." He filled local offices for Jefferson County and Steubenville for over 32 years. He served in the War of 1861; he was 60 years old at the time, and his age and not too robust constitution resulted in his honorable discharge. He was not content to settle down to an inactive life, but organized a Home Guard for Steubenville, composed of residents who for one reason or another were kept at home from the great conflict. The roster of this Company will be found among our family papers. He was the son of Joseph Junkin and his wife Eleanor Cochran, and grandson of Joseph Junkin, Sr., and wife Elizabeth Wallace. There were 14 children in the family, nearly all of whom were born in Cumberland County, Pennsylvania, before the family removed to Hope Mills, two miles from Mercer, Pennsylvania. There the Revolutionary soldier, Joseph Junkin, father of Matthew, established a flour mill, and in 1812 Eleanor Cochran, his mother, accidentally felt through a hatchway injuring herself so severely that her death took place in a few days. The old time silhouettes of Joseph and Eleanor Junkin, my great-grandparents, which hang over my mantle in the library of my home show them to be a fine straight and sturdy type with exceptionally well-shaped heads. I recall the house where my grandparents lived. It was on the corner of 9th and Market Streets with a front yard enclosed with a "paling" fence. Grandmother (Rebecca Buchanan Junkin) was fond of flowers and plants, and had a nice flower garden. One of her favorites was a sweet shrub bush which bore small purplish florets. She was,much concerned to see this bush growing smaller, and finally discovered that "Little Mary" (myself) was eating it, the bark and florets having a peculiar spicy taste and fragrance. Needless to say, after this discovery little Mary was cautioned to let the bush alone. The house had no porch in the front but a long side porch which was almost shut in by a grapevine which was fragrant with blossoms in the spring and laden with purple grapes in the fall. Grandmother was fond of animals as well as plants, and besides a cow and chickens she had a mocking bird which she called Dickey. He was a fine singer but started his song so early in the morning that every night his cage had to be placed beside my grandmothers bed and covered with a dark cloth. Even then the only way she could keep him quiet along about daybreak was to tap on his cage. My aunt, Ellen Mary Junkin, whom I had called "Inie" when a very little girt, unable to say the Longer name, was a great worker, not only about the home but also at church. In those days the women of the congregation did the most menial work about the church to save expense. They would take up the worn, dirty carpets, rip the seams apart, and sew together the parts that were worth saving; then on their hands and knees tack it down in one of the smaller church rooms. Often I have seen her come home after a full day of such work, her face begrimed with dust, back aching and hands stiff and sore, but proud in the consciousness that the work accomplished had saved the church a few dollars. There was always a preparatory service on Saturday afternoon before Communion, and at that time "the table" was placed the full Length of the middle aisle and the congregation, singing a psalm, marched down the aisle where they would partake of the bread and wine the following day. Each participant was presented with a small piece of lead called a "token" which they took home, and the next day gave to the Elders taking part in the Communion service." It was quite a Long walk from the corner of 9th and Market Streets to the Church on the corner of 5th and North, but rain or shine grandfather and grandmother were constant in attendance, walking down and then up the Long hill between the railroad and 7th Street, grandfather with his Long black Sunday coat, high silk hat and cherished gold headed cane. In snowy winter weather I was taken on a little wooden sled. Grandmother was deeply interested in genealogy and family affairs, as was Inie, and the records they kept are quite amazing. The Union Cemetery opened about 1854 and the Junkin home was at the foot of the hill where all the funeral processions passed. For many years grandmother kept an exact list of all burials and was frequently called upon to verify dates. Inie visited cousins in and around Mercer, Pennsylvania, and obtained much valuable family history. This she kept in a Ledger, and while many of the names she wrote about are of cousins so far distant that we may never contact them, she has given us genealogical information of great value. Ellen Mary (Inie) and Emelda, my mother, were the only children who reached old age. A son George was accidentally shot when only 14 years old. He climbed up on a tall bookcase and found an old shotgun which was hidden there. In true boyish fashion he started to climb down with the treasure when it fell to the floor. It unhappily was loaded, and on picking it up it discharged, killing him almost instantly. It was a terrible shock to the family, and it was years before his name could be mentioned without tears. He was a boy of fine character and his early death was a sad blow. Both my aunt Inie and my mother were graduates of the Steubenville Female Seminary, the latter graduating in 1859. Inie was never married, and spent her last years in the home of my mother and father. My mother was married on Christmas Eve, 1861, to William B. Donaldson, whose family lived in a large brick house at the top of the Market Street hill. The little settlement of houses was then called Jacksonville. The house where they lived is now occupied and owned by the Mooney family, and some of the quaint old chimney corner cupboards are still preserved as when the Donaldson family occupied the house 100 years ago. It is on the corner of Wildon and Market Streets, the Wildon being named for William Donaldson. In the rear of the large house was a smaller one occupied by John and Nancy Donaldson, my father's grandparents. John was said to have been a weaver.
---
Children of Mary Donaldson and Dohrman James Sinclair:
F1 Marie Sinclair, born September 15, 1885, died March 11, 1917; married June 20, 1907 Harry Fay Gant. F2 Wilma Sinclair, born April 7, 1887, died November 6, 1943; married (1) June 30, 1909 Garrett Benjamin Levan; married (2) May 26, 1945 Walter Hudson Baker, died 1947 in Washington, Pennsylvania. F3 Frank Dohrman Sinclair, born May 12, 1889, died August 31, 1947 in Chautauqua, New York; educator at Andover and Cornell Universities; WWI veteran; married September 7, 1940 Dorothy Smith, born September 10, 1902 in Wheeling, West Virginia in Chillicothe, Ohio. F4 Dohrman James Sinclair II, born July 27, 1904 in Steubenville, Ohio; married December 12, 1945 Victoria Crowell in Miami Beach, Florida; Graduate of Dartmouth College; WWI veteran; Author of The Ancestors and Descendants of Dohrman J. Sinclair and Mary Donaldson Sinclair. F5 Katherine Emelda Sinclair, born July 23, 1908 in Steubenville, Ohio; graduate of the Emma Willard School, 1927; married April 27, 1935 Dr. Howard Holland Minor, born August 15, 1905 in Toronto, Ohio. WWI Veteran; M. D. University of Pennsylvania, 1931.
---