Lori Jo Cockerill (1968- )
ANCESTRAL LINE: A1 Joseph Junkin I | B1 William Junkin | C8 Andrew Junkin | D1 William Junkin (Jenkins) | E1 Albert Augustus Junkin (Jenkins) | F3 Albert Thomas Junkin | G2 Harry Lawrence Junkin | H1 Joyce Ann Junkin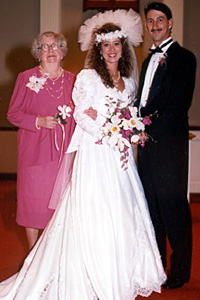 I2 Lori Jo Cockerill, was born 25 March 1968 in Washington Court House, Fayette County Ohio. She is the daughter of Joyce Ann Junkin and Joseph Eugene Cockerill. She is a homemaker and an underwriter for the Cincinnati Financial Insurance Company. She married Timothy Michael Bagoly 25 Sept 1993 in West Chester, Butler County, Ohio. Timothy Michael Bagoly was born on 19 Aug 1964 in North Hollywood, California. He is the son of Al Bagoly and Beverly Latone who live in Austintown, Ohio. He is a surveyor for Cincinnati Land Surveying Company in Blue Ash, Ohio. Children of Lori Jo Cockerill and Timothy Michael Bagoly:
J1 Alyssa ReAnne Bagoly, born 1 March 1996 in Cincinnati, Hamilton County, Ohio. J2 Sydney Nicole Bagoly born 29 April 1999 in Cincinnati, Hamilton County, Ohio.
---
Information about the Andrew Junkin line was supplied by
Joyce Junkin Cockerill
, September 2001, updated June 2005.
Her e-mail address is: jcockerill@cinci.rr.com.
---