Marie Sinclair (1885-19217)
ANCESTRAL LINE: A1 Joseph Junkin I | B3 Joseph Junkin II | C12 Matthew Oliver Junkin | D5 Emelda Bingham Junkin | E1 Mary Donaldson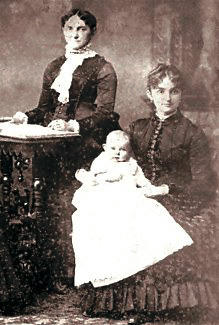 F1 Marie Sinclair, (baby in portrait at right) born September 15, 1885, died March 11, 1917; married June 20, 1907 Harry Foy Gant.
---
Obituary
MRS. HARRY FAY GRANT.

The community was shocked to learn the sad news that Marie, beloved wife of Harry Fay Grant, has passed away at her home in Franklin, Pa., on Sunday, March 11, 1917, at 3:00 p. m. Mrs. Grant had not been in robust health for a number of years, but of late she seemed to be gaining in strength. On last Wednesday her sister, Mrs. Garry B. LeVan, visited her and she was in the best of spirits, cheerful and happy, with every prospect of many years to live, but on Sunday the fatal hour came, and this bright and faithful wife and mother was called away in a few hours after being taken ill. Her death was most peaceful, and her beautiful life ebbed away in a gentle sleep. Marie Sinclair was born in Steunbenville September 15, 1885, and was the daughter of the late Dohrman J. Sinclair and Mary Donaldson Sinclair. She was graduated from Steubenville High School, and later was graduated from Ogontz Seminary in Philadelphia. She traveled extensively in Europe shortly after completing her education course. She was married on June 30, 1907, to Harry Fay Grant, of Franklin, Pa., a member of a prominent family of that city. She was a member of the Presbyterian church since early childhood, and was always attentive to her church duties, and was active in everything that pertained to the upbuilding of the Master's Kingdom. Possessed of rare personal charm, and beauty of character, she won the friendships of deep attachment wherever she was known. Unselfishness was one of the beautiful traits that dominated her life, and she was constantly bringing sunshine and happiness into the lives of others, caring for the needy and unfortunate wherever their needs were known. Even in her early childhood she was active in the Christian life, and in her church home in Franklin she was a devoted willing worker, and her beautiful Christian character was recognized and appreciated in the Presbyterian church there, as well as in the whole community. Added to all these graces she possessed a cultured mind, that made her a most interesting and attractrive companion and friend. It is sad to associate death with such a type of useful, beautiful womanhood. Her early death, which has brought overpowering sorrow to the bereaved husband, and the mother, sisters, and brothers, and other friends, outside of the family circle, all of whom hope that these loved ones may be able to realize that the passing of such a life is not its conclusion, bit is only a translation to that better land, where flowers never fade, and where farewells are never spoken. Mrs. Gant is survived by her husband, Harry Fay Gant, one son, Dohrman Sinclair, who is two and a half years old, of Franklin; also by her mother, Mrs. D. J. Sinclair, and sisters, Mrs. G. B. LeVan and Katherine Sinclair, and two brothers, Frank and Dohrman Sinclair, all of Steubenville. Her grandmother, Mrs. W. B. Donaldson, and aunt, Mrs. H H. Henderson, of this city, also survive. To all these is extended the sympathy of many friends in their hour of afflication.
---