George Washington Clutter, Jr. (1849-1908)
ANCESTRAL LINE: A1 Joseph Junkin I | B3 Joseph Junkin II | C6 Joseph Junkin III | D7 Sarah Margaret Junkin
Helen Augusta Rogers
George W. Clutter
(1849-1908)
E5 George Washington Clutter, Jr., born April 27, 1849, died December 9, 1908 in Omaha, Nebraska, "Died Omaha Neb. Dec 9, 1908, of asphyxiation - Supposed accidental". A physician. Married April 20, 1871 Helen Augusta Rogers. Three children. Source: the Family Record from the Family Bible of Sarah Margaret Junkin.
---
Death of Dr. Geo. W. Clutter

Dr. Clutter was a resident of Washington thirty-five years ago. He was a brother-in-law of our Frank Rogers, and a brother of Mrs. J. W. Morton and Mrs. J. D. Glascow, of this place. The following was clipped from the Evening Journal, of Plattsmouth, Neb.: Died--Clutter. Geo. W., at Omaha, Neb., Dec. 10, 1908, aged 59 years 7 months and 13 days. Interment at Plattsmouth, Neb., Dec. 14, 1908, at Oak Hill cemetery. The body of George W. Clutter, formerly one of the best known citizens of this city, whose life was lost last Thursday at Omaha, was brought to this city this morning and funeral services were held at the Presbyterian church, Rev. J. T. Baird paying the last tribute to the dead. Although announcement of the services in this city had not been very publicly made, there was a large number of citizens present to pay respect to this good man. It has been many years since numbers of his old friends and companions had gazed upon his face and there was deep sorrow that this morning should be the last on earth. The sermon of Rev. Baird was a beautiful tribute to his old friend and it was very affecting. It had been the wish of the deceased, that the venerable minister should say these words over his body which end all of this world and Rev. was visibly touched when he came to preach the eloquent tribute to the dead. The sermon was one of the most noted which this eloquent devine has ever preached and those who had accompanied the remains were more than touched by the simple and kindly words which fell from the lips of this gray-haired minister. Interment took place at Oakhill cemetery, the pall bearers being old army comrades of the deceased and old friends and neighbors, they being T. M. Carter, T. W. Glenn, Smith, J. G. Richey, J. W. Johnson, and Jas. Thomas. George W. Clutter was born near Wheeling, West Virginia, on April 27, 1849; his father being a prominent slave holder in that section. When the dark days of the civil war came on the father disposed of his slave holdings and removed to ____ (torn) where he hoped to escape the war, he being a union man who had many relatives upon the side of the confederacy. It was not to be so with the younger boy, George. At the age of 14 he was taken with the war fever and enlisted in County M 4th Ia. (Iowa) Cavalry of the Union army and served through the remainder of the war, making a record for bravery as a soldier. After the close of hostilities he returned to Iowa and in 1871 he married Helen A, Rogers at Washington, Ia. To this union three children were born but one of whom survives. Geo. Jr., born in Burlington, Ia., died during his infancy, Charles, born at Washington, Ia., in 1874 is the one surviving child and lives in Omaha, while Pauline was born in this city in 1881 and died here two years later. The latter child reposes in Oak Hill cemetery and today saw her father interred beside her. Mr. Clutter and his wife came to this city in 1878 and remained here until the middle 80's when they moved to Lincoln and later to Denver, Col. Some three years ago they removed to Omaha and had since that time made that city their home. The widow and surviving son Charles, were accompanied by her brother, Frank A. Rogers of Washington, Ia., together with a number of friends and neighbors from Lincoln, Haverlock, and Omaha. Those who had the good fortune to know Dr. Clutter in his life time had nothing but the best of words for him. A patient, gentle, loving husband and father, his passing was the cause of great regret not alone to his widow and other relatives but to the whole world who can ill spare his like.
---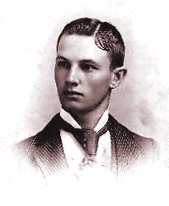 Charles Curtis Clutter
(1874- )

Children of George Washington Clutter, Jr. and Helen Augusta Rogers:
Source: the Family Record from the Family Bible of Sarah Margaret Junkin.
F1 George Clutter, Jr., died in infancy. F2 Charles Curtis Clutter, born March 21, 1874; was living in Omaha, Nebraska in 1908. F3 Katie Pauline Clutter, born November 13, 1880, died 1883.
---