E5 Amy Junkin, born February 5, 1862, died March 13, 1945. Married September 3, 1886 Reverand John F. Hinkhouse, born 1858, died August 5, 1933. Group portrait of the children of William Wallace Junkin, ca. 1910. John F. Hinkhouse was for 47 years a Presbyterian minister in Iowa. Amy and John both graduated from Parsons College in Fairfield, Iowa. Both are buried at Wilton Junction, Iowa.
---
Children of Amy Junkin and Reverand John F. Hinkhouse:
F1 Laura Hinkhouse, born 06/13/1887, died 05/15/1974. F2 Elmer Dodd Hinkhouse, born 05/31/1890, died 02/16/1962. F3 Paul McClure Hinkhouse, born 08/11/1892, died 11/05/1963. Married Uretta Amis. No issue. F4 Fred Junkin Hinkhouse, born 02/20/1895, died 1956. F5 Gertrude Martin Hinkhouse, born 1899, died 1973.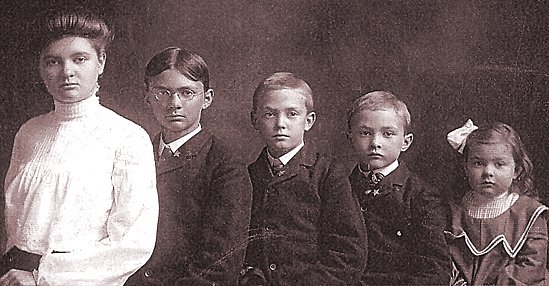 Children of Amy Junkin and John F. Hinkhouse, ca. 1902
To identify a family member and jump to their biography, position your mouse over their picture.