1864
Published in the Steubenville Weekly Herald, Wednesday, January 6th, 1864 Volume 58, Number 9, Page 3.

CAMP OF THE 126TH OHIO, NEAR BRANDY STATION, VIRGINIA, JANUARY 7TH, 1864
TO THE EDITOR OF THE STEUBENVILLE HERALD: Having a few leisure moments today. I thought a line from this part of old desolated Virginia, might be interesting to some of your readers who have friends in this army. For the information of such I would say that, we are enjoying the comforts of good winter-quarters in our little cities of log cabins, which is really pleasant after the busy fall campaign. The army is in good health and spirits. although we have come to the conclusion that we will have to make a permanent business of soldiering, we would willingly quit and retire to private life, if peace were restored to our land. "But the end is not yet," and we wish to stay to see the work finished. The soldier resorts to various methods of amusement, to while away the hours of a winter's campaign. The principal one of which is writing to and reading letters from 'dear ones at home.' This is truly a great blessing to us, and we feel grateful to our friends and acquaintances for the many letters received from them. But if they knew the anxiety with which a soldier waits for a letter, and see the joy in his countenance on receiving one they would spend more time writing to the soldier boys. We occasionally have an incident to vary the routine of camp life. A few evenings ago we saw a man drummed out of service. His head was shaved. He was marched through the different Brigades of the Division to which he belonged to a tune called, "The Rogue's March." Yesterday we had a funeral, the first that has been in our Regiment for some time. A soldier's funeral is a sad sight to look upon. The solemn music played upon that occasion, the slow and measured step, with no friend to shed a parting tear. He is laid down in the ground and soon forgotten. The bugle will never again call him forth to arm. "He has slept his last sleep, he has fought the last battle, No sound can awake him to glory again." Re-enlisting is the order of the day among the old soldiers. A large proportion of them are entering the service for another three years, and if we had the co- operation of all the people at home, I have no doubt that the most, if not all the soldiers would re-enlist, thus avoiding the draft. T. C. B.

Published in the Steubenville Weekly Herald, January 20, 1864, Vol. 58, Number 11, Page 3. L O CA L M A T T ER S.
_________
Wednesday, January 13.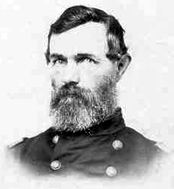 Lieut. Colonel Harlan

At Home:-Lieut. Colonel Harlan, of the 126th Ohio is at home at present.-The Colonel has had a rough campaign, and looks the "worse of the wear." His health we understand, has been considerably impaired, and his purpose is to recruit [sic] it, before returning again to the service.

Published in the Steubenville Weekly Herald, Wednesday January 27th, 1864 VOLUME 58, NUMBER 12, PAGE 3. DIED: In the Regimental Hospital, near Brandy Station, January 22d, 1864, Corporal John P. Ervin, of D company, 126 O. V. I., in his 24th year. When his country was endangered by armed rebellion, and in response to a call by the President for more troops, he placed himself a willing sacrifice upon the altar of his country, and went forth to do battle for liberty and right, by volunteering, Aug. 29th, 1862. His conduct was such as to reflect credit and honor upon the soldier's life; always ready to do his duty, at all times and places. He was a strictly moral and rigidly temperate young man. He is now discharged from Earth's sorrows, and peacefully went to rest from the noise of war. His death will be severely felt among his fellow soldiers, but our loss is his gain. He has gone to receive a rich and lasting reward in a better clime. G. D. O.

Published in the Steubenville Weekly Herald, February 24, 1864, Volume 58, Number 16, Page 2 LETTER FROM 126TH REG'T.
(Correspondence of the Steubenville Herald.)

CAMP 126TH REGIMENT, BRANDY STATION, VA.

Editor of Steubenville Herald:-After our return from the recent reconnoissance [sic] to Morton's Ford on the Rapidan, and when we reached camp, weary with the march, intelligence was conveyed to us that donations had been sent to Captain J. S. McCready for our companies C, D and H, respectively, and after being carefully distributed, we refreshed ourselves to the good things kindly furnished. We, a Committee upon the part of the companies we represent, do hereby express many thanks to the patriotic and christian [sic] ladies of the Beech Springs Soldiers' Aid Society, of Harrison Co., for this manifestation of remembrance and kindness, and may they ever remember those deprived of home comforts and enjoyments. We pledge our lives and sacred honors to the donators and friends to use our best endeavors to carry Columbia's proud banner in defense of our country, until it waves as in days of yore over the entire Republic of America, and until lawful power shall rule in peace.
C. G. EGLESON,)
J. P. SLEMMONS,) Com.
C. MANSFIELD.)

Published in the Stuebenville Weekly Herald, Wednesday, March 16, 1864 Vol. 58, Number 18 Mr. George Elliott, a London Merchant, has presented to the United States Sanitary Commission (through our countryman) (Cyrus W. Field,) one thousand tons of best English coal. Mr. Elliott incurs all expenses in delivering the coal on board of a ship Mr. Field may select so that the entire cargo leaves England without any cost to the Commission. Truly a noble deed for a very worth object.

Published in the Steubenville Weekly Herald, Wednesday May 17, 1864 Volume 58, Number 28 LETTER FROM THE 126 OHIO.
The Fight-The Killed-The Wounded-The Missing.
(Correspondent of the Steubenville Herald)
ARMY OF THE POTOMAC
SPOTTSYLVANIA CO. VA. MAY 11TH, 1864 MR ALLISON-
Dear Sir: The engagement with the enemy began last Thursday and is still going on. A great deal of hard fighting has been done by this army, since that time, and in this the 126th had done its full share and done it well but in this has suffered severely, as will be seen from the list of the killed, wounded and missing which I send of Company D. I send lists of companies to their own county papers. We engaged the enemy first on last Thursday, at 'Wilderness Tavern' not far from where the battle of Locust Grove and Mine Run was fought last fall. Here they fought incessantly, Thursday and Friday, and a good part of Thursday and Friday nights. On Friday evening, late, the right flank of our brigade was turned, and our regiment almost surrounded in their rifle pits, making it necessary to fall back, cutting their way out, through a most galling fire, and a dense thicket of woods. Here occurred our heaviest loss. But the regiment and brigade, after falling back sufficient distance to enable them to do so, advanced, and that night held again their old position, but owing to the advances of the enemy, the darkness of the night, and the thick underwood it was impossible to get all the killed and wounded, or to tell in reference to many who are marked 'missing' on the list, whether they are killed, wounded or captured. On Saturday and Sabbath we advanced by way of Chancellorsville to this place [Spotsylvania], and engaged the enemy on Sabbath evening, since which time we have met with stern resistance. Both armies are in fortifications, and fighting constantly. We are still gaining on them. Our regiment has shown itself to be brave and true, in every sense of the word. From the Col. down, all have stood bravely up to the work, under the severest tests an army can be put to. Lieut. Col. Ebright, commanding the regiment, has acquitted himself nobly. So with other officers. Colonel Ebright's horse was shot under him, also Adjutant Hyatt's-the latter was slightly wounded. Gen. Seymour, who had just taken command of the brigade, was captured with most of his staff, on Friday evening. Colonel Smith was with him at the time, but put spurs to his horse, when surrounded and ordered to surrender, and escaped, untouched, amid a volley of bullets fired after him. But I must close. Excuse this, as I am trying to write this in the woods, while the fight is still going on. I am well, but much worn down with loss of sleep and other things. Yours, truly,
J. K. Andrews LIST OF KILLED, WOUNDED AND MISSING IN CO. D, 126 REG'T O. V. I.
Killed. Corporal J P Barnside
Wounded. Corporal Graften. Privates T Brown, D Barnes, C Cristy, E Davis, J N Desellem, W L Householder, S Haight, J Hughes, J U Longbottom, P McBlaine, R Scott, T Russell, L McKenzie, J Williams.
Missing. Lieut. S C Kerr, Sergeant J McKee, Corporal J Dennis. Privates David Close, M S Lewis, J Martin, J Spenser, J Scrivner, E Robberts. I have taken pains to have the above as correct as possible, but still there may be some errors. J. K. A.

Published in the Steubenville Weekly Herald, May 17, 1864, Volume 58, Number 29 [sic], Page 1. Casualties in Ohio Regiments.

COLUMBUS, May 11, -Gov. Brough received the following telegram this afternoon:
Washington, May 11-12 [space] M.-Four thousand one hundred and fifty slightly wounded are arriving by boats from Belle Plaine. The casualties, as far as I can learn, in Ohio regiments are as follows:
Killed-Major Wm. L. McIlvaine, 110th; Captain George W. Hoge, Company B, 126th; Captain Richard M. Lyons, Company C, 126th; Captain Oliver W. Feree, Company G, 126th; Captain Joseph Wert, Company I, 122d; 2d Lieutenant Albert J. Harrison, A. A. General, 126th. Wounded-Col. J. W. Keitler, 110th regiment; Captain Jno. M. Smith, Co. A. 100th; Captain George W. Voorhees, (ran over,) Co. A, 126th regiment; Capt. David Lewis, Company G, 8th regiment; Capt. Jonathan McCready, Co. H, 126th regiment; Lieutenant Lester, (badly,) Co. C, 8th regiment; Lieutenant Strange, Co. I, 8th regiment.
Missing-Capt. Joseph V. Van Eaton, Co. K, 110th; First Lieut. Joseph McKnight, Co. E, 110th regiment; Lt. John H. Neimyer, Lieutenant Thomas W. M'Kennel, Co. H, 126th Regt. Everything is being done here for the comfort of the wounded; the hospitals were never in so good condition as now. The Ohio Relief Association sent a detachment to Fredericksburg this evening to look after wounded men.

Signed, James C. Wetmore,
Ohio Military Agent.

Published in the Steubenville Weekly Herald, May 17, 1864, Volume 58, Number 29, (sic). LETTER FROM WASHINGTON.

The 126th Ohio almost Annihilated. Sixteen Men of Company D, Jefferson County, and Sixty-five of the Entire Regiment Reported for Duty, only.


Mrs. Martin, wife of Capt. Martin (formerly of Company D, 126th Ohio,) received a letter from her husband, Washington City, this morning. We have been favored with the following extract for publication, from which it will be learned that Company D, and the 126th has been sadly cut up. Captain Martin says, under date of Washington, May [rest of line blank]

General Martindale is killed. I have been at Harwood Hospital all day; it is there the Ohio men are sent. Met four of my old company, Phillip McBain, Jas. Paisley, John Williams, and J. M. Desellems, all wounded. From their statements, and from the account of the State Agent, the casualties in the regiment are about as follows: Captains Lyons, Frances, and Hoge, with Lieut. Harrison killed, Lieutenants Kerr, Watson, and some others missing, supposed killed. Capt. Lampton mortally wounded. Capt. McCready, Lieuts. McKinney, Lewis, Hillas and Hixon, wounded; McCready and McKinney through the arm; Hillas through the side. The regiment is almost annihilated. They went into the battle with over 500 men, and at last accounts only 65 were fit for duty. This account may not be correct, but I fear it is. I hear that my dear old Company had only 16 men when last seen. Sergt. McKee, Cristy and Poor, also, old Tom Brown are killed; others wounded or missing. Seargeants Householder and Morrow were safe at last accounts; also, McFarland, Jones, and Millinger. Capt. McCready will be in to-day--wound in the left arm not dangerous. Most of the wounds I have seen are slight. Excuse mistakes.
MARTIN ____________________

Published in the Steubenville Weekly Herald, May 17, 1864, Volume 58, Number 29 [sic], Page 4. L E TT E R F R O M W A S H I N G T O N.


The following private letter was from the son of the Editor of this paper came in hand this morning, from Washington. As it contains a [sic] much of public interest, we reproduce it in the HERALD, for the purpose, more particularly, of impressing upon our readers, the great want of sanitary stores and help, for the wounded soldiers, which should be sent forward at once. In the name of patriotism and humanity, let not this appeal be made in vain.}

WASHINGTON, D. C., MAY 11TH, 1864.


I have just come from the Sixth street wharf, where I have been all day administering to the wants of our poor wounded soldiers. It was not a task of pleasure, I assure you, but one of duty. Boat after boat arrived and discharged its living cargo of human suffering. I had no idea of the suffering soldiers undergo, until I witnessed it in every form; some with arms off; others with their shoulders terribly lacerated. One poor fellow I found in the hold of a boat, shot through the bowels, and suffering intensely. I bathed him with cold water, and gave him hot whiskey punch to drink, which revived him considerably. Yet the officers say those brought up are but slightly wounded, in comparison with those left behind; one told me Fredericksburg was a "living graveyard." When he left, there were over fifteen thousand wounded in the city, some without any attention whatever. The Colonel of the 118th Pennsylvania Volunteers, wounded in the thigh, told me he had been six days in an ambulance, coming from the Wilderness to Fredericksburg. The Sanitary Commission are doing all in their power to relieve the suffering, but they are not supplied with nurses. I offered my services and was accepted. Although I can do little compared with some, yet I can do a vast amount of good, and am willing to do my utmost to relieve the soldiers. * * * I met Capt. Martin, on the street, to-day. He says his regiment, the 126th Ohio, was almost annihilated. That four Captains had been killed. He is going down to Fredericksburg to-morrow. I have not seen a list of casualties in that regiment, or indeed in any of the Ohio regiments as yet; and am very anxious for Jefferson county men. . .

Published in the Steubenville Weekly Herald, May 25, 1864, Volume 58, Number 29 [sic], Page 2 LATEST FROM GRANT'S ARMY.
LIST OF KILLED AND WOUNDED, 126TH REGIMENT.
(Correspondence of the Steubenville Herald}

HD'QTS.3D DIVISION 11TH A. C, ON THE PIKE TEN MILES FROM FREDERICKSBURG, MAY 11TH 1864.


MR. ALLISON-DEAR SIR: -While resting probably only for a few hours from the terrible labors of the past few days, I will attempt to write a line in regard to our operations. We left camp on the morning of the 4th inst, and proceeded to Germania Ford, and crossed the Rapidan on that evening. The next day we took line of battle some three miles from the river in the neighborhood of the pike leading to Chancellorsville and Fredericksburg, and on the same evening, as well as on the 4th and 7th insts., engaged the enemy in a thick and dense wilderness in which the enemy had taken their position. Our loss here was considerable in killed and wounded, but that of the enemy must have been greater. The right wing of our regiment continued to engage the enemy at this place until the ballance [sic] of the army succeeded in outflanking Lee on his right, thus placing our whole army in good position between Fredericksburg and Richmond and in possession of the extensive rebel works at Mine run. The enemy have fallen back from our approach at every point, and our forces occupy all the rebel lines of defense this side of Spottsylvania C. H. We have captured twenty-three pieces of artillery, several stands of colors, and from 10,000 to 12,000 prisoners. This has indeed thus far been one of the most victorious campaigns of the war, but we have had it at a great cost of life. I think that our loss in killed, wounded and missing will not exceed 20,000. Our brigade, the 2d of the 3d division, 6th corps, was engaged for 10 consecutive days and nights, and made some of the most desperate charges and assaults yet on record. All honor is due to its brave commander, Col. B. F. Smith, of the 126th Ohio vols., and to the brave boys of its several regiments. Among the casualties among the officers of the 126th Ohio regiment the following are reported:

		Capt. R. M. Lyons, 	Co. C 	killed.
		Capt. O.W. Frantz, 	G.	killed.
		Capt. R. Lampton,	K.	killed.
		Lieut. A. J. Harrison,	H.	killed.
		Lieut. Robt. Hillis,	B.	killed.
		Capt. J. McCready, 	H.	wounded.
		Lieut. S. C. Kerr,	D.	wounded.
		Lieut. A. U. Moore.	C.	wounded.
		Lieut. Hixon,		A.	wounded.
		Lieut. McKinnie,	H. 	wounded.
		
Lieut. Col. Ebright was slightly wounded in the head but is still on duty.
Co. D, 126th Regiment seems to have suffered very much. Only 14 men have escaped from 51, the number that went into action on the 5th. I give below the list of killed, wounded and missing.

		1st Sergt Jno. M. Russell,	Killed
		Corp. James P Burnside,		Killed
		Private James Everett,		Killed
		Lieut. S. C. Kerr,		wounded
		Sergt. G. Householder,		wounded
		Corp. Alex. Graffiton,		wounded
		Privates Thos. Brown,		wounded
		Private John Williams,		wounded
		Private L. McKenzie, 		wounded
		Private George Linton,		wounded
		Private John Grout,		wounded
		Private Jno. H. Gilson, 	wounded
		Private Thos. Russell,		wounded
		Private Eli Davis,		wounded
		Private J. H. Longbottom	wounded
		Private David Barnes,		wounded
		Private Conrad Christy,		wounded
		Private I. N. Desellam,  	wounded
		Private Absalom Jones,		wounded
		Private Samuel Haight,		wounded
		Private Wm. Householder,	wounded
		Private Mark S. Lewis,		wounded
		Private J. A. Hughes,		wounded
		Private John Spencer,		wounded
		Private Robert Scott,		wounded
		Sergt. Joseph McKee,		Missing.
		Private J. Martin,		Missing.
		Private David Close,		Missing.
		Private Jno. Parson,		Missing.
		
Our regiment now musters about 150 men for duty. The boys are all in good spirits, and although not eager for the contest are ready to strike again. Grant has the confidence of all his men, and we feel that it won't be long until the C. S. A. will yield up its little ghost-But I must close in much haste.
Yours,
W. M. C.
Co. D 126 O. V. I

Published in the Steubenville Weekly Herald, Wednesday June 1, 1864 Volume 58, Number 30 Thursday, May 26 Our Hundred and Twenty-sixth Ohio: This regiment of Ohio Volunteers, one company of which (Company D) was raised in Jefferson county, has lost heavily during the late advances of our army over the Rapidan. It appears from the Adjutant General's report, on the 5th instant, it mustered 532, including officers. Number of officers killed, 4; number wounded 5; missing, 2. Number of men killed, 45; wounded 191; missing 15. We received a letter to-day from Washington, stating that 1st Sergeant John M. Russell, company D, 126 regiment O. V. I., was killed in one of the desperate charges which that regiment made on the 19th inst. In the death of Orderly Sergeant Russell the company has sustained a sad loss. He was a brave and noble-hearted soldier, and one whom the whole company loved and respected. As a soldier he was a pattern of soldierly virtue; as a man he had the special confidence and trust of all who knew him.

Published in the Steubenville Weekly Herald, Wednesday, June 22nd, 1864 Volume 58, Number 33, Page 3. Saturday, June 18.
More men of the 126th Ohio Turning Up: The following members of the 126th Regiment O. V. I. are now in Locust Grove Hospital, in the Wilderness, under charge of Dr. Donelly, of the 2nd Pennsylvania Reserves. The names were copied from the Washington Chronicle, of June 16: W. Moore, Co. B,
Thos. Brown, D,
J. W. Patrick, B,
L. Kuntz, E,
David Pollard, B,
M. Atkins, E,
C. W. Calfland, C,
Allen Reeves, E,
Michael Johnson, C,
G. J. Murphy, G,
Samuel Hines, C,
James Penick, G,
James Denis, D,
John Krichter, G,
Joseph McKey, D,
Lt. A. J. Harrison, H,
Conrad Christy, D
F. G. McNare, H,
Adam Cranope, I. Many of these persons were reported killed. I thought their friends would be more likely to hear of their safety through your paper than by any other means. If you publish this list you will much oblige me. Respectfully,
A. S. Martin

Published in the Steubenville Weekly Herald, Wednesday, June 22nd, 1864 Volume 58, Number 33, Page 3. Thursday, June 16th.
Captain McCready: For some two or three weeks, Capt. McCready now in the hospital at Washington City was very low, and his recovery was considered doubtful. We learn, however, recently, that his arm has been amputated; that he is doing well and is considered out of danger. Cadiz Rep. Capt. McCready belongs to the 126th Ohio.

Published in the Steubenville Weekly Herald, July 6, 1864, Volume 58, Number 35, Page 4. What Two of the 126th Boys Endured and Performed.

COLUMBIAN [?] HOSPITAL, WASHINGTON, D. C.
June 27, 1864.

______

(Correspondence of the Steubenville Herald)
______



MR. EDITOR:-An instance of what our soldiers patiently suffer has just come to my knowledge, which I think is unsurpassed. Seargant Joseph McKee and Corporal James Dennis, Co. D, 126th Regt. Ohio Vols., both from Jefferson county, were wounded severely on the 7th of May, both in the thigh, at the same time. They were taken prisoners and with many others were removed about one mile from where they were wounded. There they laid thirty days, dressing their own wounds. On the 5th of June, the rebels came with ambulances and removed all the wounded but a few who were to remain until the next day. Our two heroes were among the latter number. After the ebels [sic] left they came to the conclusion hat [sic] they would rather die in trying to get inside our lines, than go to Richmond and die. Accordingly, on the evening of the 5th they started, the sergeant on crutches. On the 6th, they forded the Rapidan, the water being waist deep.-Then they struck the railroad and followed it, procuring their provisions from the citizens, paying as high as $3 per doz. for biscuits. On the 9th, they reached our picket line, nine miles south of Alexandria, Va., having traveled over sixty miles, one of them on crutches. They suffered terribly, yet they bore it patiently. They are now in the Summit House Hospital in Philadelphia, and are doing as well as can be expected. Are not such men worthy of the sympathy of every one in the North? yet Copperheads hoot at them "Nobody, but a poor mean soldier." They will discover "the error of their ways" when it is too late.



MEMBER OF THE 126TH O. V. I.

Published in the Steubenville Weekly Herald, Wednesday, August 3, 1864 Volume 58, Number 39, Page 3. Friday, July 29.
The 126th Ohio:
Rev. J. K. Andrews called at the Herald Office this morning. He is the Chaplain of the 126th Ohio. He is enjoying tolerable health, looks a little thin of flesh, and bears unmistakable marks of service: he is much sun-burnt, some care-worn, and is growing grey. He left his regiment on Sunday last. At that time, the regiment was located not far from Georgetown, and near Washington. The men were enjoying pretty good health, were footsore, but in other respects in good condition and good spirits. They are well-cared for, &c, being satisfactory. They were in the battle of Monocacy, and suffered severely, but not so badly as first reported. The regiment lost in killed about 10 to 12, about 20 were captured, and probably 30 wounded, making in all between 50 and 60. The regiment numbers about 250 men, about 150 of the first enlistment. This regiment belongs to the 6th corps. The 6th and 18th are, we understand, to lie still at and near Washington. Rev. Andrews expects to give us a correct list of killed, wounded and missing at the battle of Monocacy in a few days-could not do so sooner, except in violation of orders-the Colonel objecting to publication of loss, so long as members of the Regiment were coming in, supposed to have been killed or captured.

Published in the Steubenville Weekly Herald, August 3, 1864, Volume 58, Number 39 [sic], Page 2.


HOMETOWN HONORS ORDERLY JOHN RUSSELL

____________

At a meeting held at Thompson's School House, in Brush Creek township, Jefferson county, Ohio, on Friday evening, July 29th, for the purpose of paying a tribute of respect to the memory of deceased soldier friends, Joseph M. Beard was chosen Chairman, and Wm. M. Kerr, Secretary. On motion, the Chairman appointed a Committee of three to draft resolutions expressive of the feelings and sentiments of the meeting. The Committee reported the following resolutions, which were unanimously adopted:
WHEREAS, We are called to mourn the loss of our esteemed friend and associate, Orderly John M. Russell, of Co. D, 126th Regiment, O. V. I., who fell in battle on May 12th, 1864, while he was bravely defending his company in the deadly contest; and
WHEREAS, His comrades in arms, both officers and privates, have borne testimony to his manly virtues and commendable soldierly qualities, we feel it our duty to pay a tribute of respect to his memory; Therefore
Resolved, That in the death of Orderly Russell, his company has lost a brave and efficient officer, his country a noble and patriotic soldier, the church a consistent and zealous member, his parents and friends a kind and affectionate son and brother, and we a worthy and esteemed associate.
Resolved, That while we mourn the untimely end of our departed friend, we bow in humble submission to this sad casualty, believing that his sacrifice was not in vain -- that he has fallen in a good and noble cause, to rise in glory where all is unity and peace.
Resolved, That we tender to the friends of the deceased our heartfelt sympathy in their sad bereavement, and that a copy of these resolutions be sent to his parents.
Resolved, That we learn with sorrow of other casualties in Co. D; also that we deeply sympathize with those of that gallant band of patriots who are suffering from wounds, or languishing in Southern prisons, and that we will ever revere their memories for their patriotism and gallant deeds in the battles for their country's honor.
Resolved, That the proceedings of this meeting be published in the Steubenville HERALD.
WESLEY B. DERRICK,)
JNO W. McINTOSH, )
JNO. C. RUSSELL, ) Com.
JOSEPH M. BEARD, Ch'n.
WM. M. KERR, Sec'y.

Published in the Steubenville Weekly Herald, August 17, 1864, Volume 58, Number 41, Page 3. Thursday, August 11.

Three Brave Soldiers of Warren Tp. Gone"-Captain Aaron B. Chamberlain, commander, company G, 30th regiment, Ohio Volunteer Infantry, was killed at the storming of Kenesaw Mountain, Ga., on the 27th of June, 1864. He fell while gallantly leading his command. He was a most excellent man and officer. Thos. B. Lesby, company D, 98th Ohio Volunteers, was killed at the same place, on the 30th of June, 1864. He was a brave soldier, and his memory will be reverenced by all who knew him. Private Enos Browner, company D, 126th O. V. I., was killed on the 9th of July, at Frederick, Va., while serving his country. We are seldom called upon to record the death of so many brave soldiers and worthy citizens.
They sleep in peace, they [sank] to rest,
By all their country's wishes blest.

Published in the Steubenville Weekly Herald, August 31, 1864, Volume 58, Number 43, Page 2. Letter from the 126th Ohio.
(Correspondence of the Steubenville Herald)

NEAR BOLIVAR HEIGHTS, VA [SIC/CAP "A"])
AUGUST 26, 1864)


MR. ALLISON:-Once more with my regiment I hasten to fulfill my promise, to furnish you with a list of the casualties of the 126th at the battle of Monocacy, on the 9th of July. I expected when I saw you to be able to do this before leaving home, but was unable to do so. Killed-Jacob Bruner, Co. D; John McMyers, Co. E; Josiah Spicer, Co. E; Oliver Badger, wounded and since died. Wounded-Capt. J. Weyand; Capt. G. W. Hoge; Capt. J. E. McPeck (severely.) Seargt. Wm. Simmons, Co. A; Seargt. Henry K. Lupton, Co. B; Corp. George Vanfossen, Co. B; Moses Early, Waitman McDaniel, missing, George Osborne, Andrew J. Peyton, Co. B; Corp. Joseph Greenlees, Henry Williams, Co C; Geo. Douglass, Co. D; Seargt. Francis Cordrey, Co. E; Henry Rodebaugh, Co. F; Jesse Corn, W W. Williams, Eli Sherrett, Co. G; Corp. James Love, Co. H; Seargt. William Young, Thomas Hodginson, Seargt. Abram Colgrove, color bearer, Co. I; Corp. Wm. Lentz, S. G. Hill, Co. K; Samuel Wilson, Solomon True, Joseph Whetstone, Co. A. Captured-Corp. Geo. Shuss, John Passmore, Andrew J. Orr, John Gundy, Co. A; Seargt. A. D. Walker, Silas Wharton, A. Baker, Co. C; James Silton; John A Thompson, Co. D; J. J. Garvey, Jacob Miller, Robert Moore, H. H. Still, Co. K. Missing-David Snyder, company I; John Coleman, company A; Edward Mathess, Archibold Baker, company B; I. B. Cave, D. McDennis, Johnathan Borden, Levi Cook, James Satershall, Sm. Coultrap, Charles Drehurst, Wm. A. Lambert, S. Thomas, company C; James O. Martin, Wm. Bramer, company D; Robert Harper, Philip M. Ramber company F; James Bens, Jos. Boyer, company G; Nathan Among, Peter Arbenlee, John Baldman, Mathew Rine, Hervey Prescott, company H; Sedgwick Blake, Wm. Burtoff, Alex. McLewis, Peter Seffler, company I. I was frequently asked when in Ohio in reference to the casualties of the regiment during this summer's campaign, its present strength, & c. For the information of the many friends of the regiment, I send you also a summary of our casualties since we crossed the Rapidan, May 4th. Officers-3 killed, 11 wounded, 2 of whom died of their wounds, and 4 of whom, with two others not wounded, captured, making 16 in all. Enlisted men-44 killed and 247 wounded, 34 of whom have since died of their wounds, 12 captured and 2 missing. There were also 72 captured and 45 missing making in all 408. Total officers and enlisted men 424. This does not include ordinary losses to the regiment by disease and discharge.

Yours truly,
J. K. Andrews, Chaplain.

Published in the Steubenville Weekly Herald, October 5, 1864, Volume 58, Number 47, Page 3. The 126th Ohio.
Letter from the Chaplain-Battle of the 19th-
List of Killed and Wounded.

WINCHESTER, VA Sept. 24th, 1864

MR. ALLISON:-Dear Sir:-Before this reaches you, you will have furnished the readers of the HERALD with full accounts of the battle of the Opequan on the 19th, together with the pursuit, and the battle of Fisher's Hill. It is not therefore my intention to give you a description of these, and will only say, as the result will show, that the whole was well planned, nobly and heroicly executed-and by the blessing of God has been very successful. Our victory is complete, fully as much so, I assure you, as any report you may receive will make it, and the end is not yet. The army is still pushing on, and are now twenty or thirty miles beyond Fisher's Hill, still pursuing-crippling and capturing the remains of the old "Stonewall" corps, that has so long been the boat (sic) of the rebels and the scourge of this Valley.

Our division and the 126th particularly, as usual, has done their full share of fighting, and suffering too, as severely perhaps as any of the other portions of Sheridan's command. I write more particularly to furnish you with a list of the killed and wounded, as full and correct as possible for me to make it out. I am at the present detailed to remain here in the Hospital, but expect to rejoin the regiment in a day or two, when if I have omitted or reported incorrectly, I will endeavor to correct. Killed on Monday the 19th-Lt. Col. Ebright, commanding regiment; Captain T J Hyatt, commanding Co E, formerly of Co F; Lieut Rufus Reckseeker; John McKenly, Co C; George Grass, Co H, Wm Gannon, Co D; Samuel Sthrol, Co K; Joseph Graven, Co K; Otto Cold, Co G. Wounded-Captain Williams, legs, not severely; Lieut Corydon Patterson, head, not severely, Lieut Wells, slightly; Geo Boyer, Co K, face, severely; Immanual Standrock, co G, thigh; Wm. Henderson, Co------; Alfred Zartman, co K, Benj A Bowman, co K face; Sylvanus Cass, co B, shoulder; Hiram Swank, co G, right leg amputated; John O Hamlin, co E, side; Searg't W H Keplert co E, leg; Louis Good, co H leg; James Bronner, co D, John Emby, co G, Searg't-Major G F Gaines, hand and side. Godfrid [sic] Mair, co C, Samuel Nash, co C, Joel M Denison, co K, leg amputated; Wm Ford, co H, thigh; Wm T Hill, co K, Henry Miser, co K, Elias B Walleck, co B, mortally, since died; Geo C Clark, co E, knee; Britten Felure, co B, shoulder, Andrew Walter, co A, Aaron Aish, co E, Henry Askins, co H, Jacob Sher, co A, thigh; John Guthrie, co H, left side; John Weaver, co A, leg amputated; Joseph Whetstone, co A, Wm H Gibbs, co F, Alex. Davis, co A, A H Turner, co D, hand. Killed on the 21st, at Fisher's Hill.-Searg't Moses Connway, co H; Enos Robertson, co G; Enoch C Moore, co A; P Jenkins, co E. Wounded-Searg't G A Haverfield, co H, severely, one leg amputated, other exsected [sic]; Mickel Furney, co G, leg amputated; Searg't J W Davis, co C, hip, flesh wound; Louis Crawford, co F, ankle; Geo Russel, co D, hip; Lawrence Gross, thigh; Abraham Copeland, co I, ankle; Charles H Edwards, co H, ankle; Wm L Wright, co A, leg; Jacob M Derry, co B, knee; Jackson McConnell, co D, hand; Hugh Baker, co E, face, slight; Christopher Cook, co E, arm; Jesse Gannon, co D, elbow, Jacob E Foreman, co F, wrist, Geo W. Westall, co K, face; John Swoby, co G, arm, John Dye, co H, arm

J. K. ANDREWS,
Chaplain.

1865
Published in the Steubenville Weekly Herald, January 11, 1865, Volume 59, Number 13, Page 3. L O CA L M A T T E R S.
_________

Monday, January 9.
Promoted:-Capt. Thos. W. McKinnie, of the 126th Ohio, has been promoted to Lieutenant Colonel of that regiment.

Published in the Steubenville Weekly Herald, April 12, 1865, Volume 59, Number 26, Page 3. LOCAL MATTERS.
_________

Monday, April 10


The 126th Ohio:-We are glad to hear again from the 126th Ohio Regiment, which went out from Camp Mingo in September, 1862, but whose ranks have become sadly depleted by the casualties of war since that date. Colonel B. F. Smith has lately returned to take charge of the command, who had been absent from its immediate control for some time, as brigade commander, but more latterly on account of severe indisposition contracted by his arduous and valuable field services during the last campaign of the Army of the Potomac. We also learn that the members of company D have presented to 1st Lieutenant James H. McKee, recently commissioned, with a beautiful sword and belt, in token of their regard for him, and for his noble qualities and tried gallantry. A few more months only are to elapse before these brave fellows will return from their three years' contract with Uncle Sam. Shall we be ready to welcome them?

November 1, 1865, Volume 59, Number 45, Page 3. L O CA L M A T T E R S.
_________

FRIDAY, OCTOBER 20.


A Patriotic Mother:-Mrs. Prudence Hart, of Washington township, Columbiana county, had seven sons in the Union army during the late war, all of whom served out their time, were honorably mustered out, and have returned home unhurt and well, vis: Frank, three years in 32d O. V. I. and 26th Ohio battery; Hector, three years in 126th O. V. I; William, twenty months in 26th Ohio batterh; Alexander, four months in 143d O. N. G.; John, Silas and Lyman, one year each in 46th Wisconsin. They were with their respective commands during the campaigns and battles in which they bore a conspicuous part. Is there a parallel case? Mrs. Hart, withal, is a most thorough-going Union lady, intelligent, and her patriotic ardor was not dampened in the least by the service her sons gave to their country. They went with her blessing and prayer that the cause in which they periled all might triumph.-Devotion has its reward. The cause is secured beyond cavil, and her sons at home in peace.