Marc Edward Hinderlong (1965- )
ANCESTRAL LINE: A1 Joseph Junkin I | B1 William Junkin | C8 Andrew Junkin | D1 William Junkin (Jenkins) | E1 Albert Augustus Junkin (Jenkins) | F3 Albert Thomas Junkin | G2 Harry Lawrence Junkin | H2 Janice Louise Junkin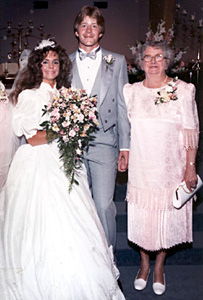 I1 Marc Edward Hinderlong, born 3 Jan. 1965 in Hamilton, Butler County, Ohio. He is an Applications Engineer on Computers for ________ Company; married Shawnda Renee McKnight on 6 June 1987 in Hamilton, Butler County, Ohio. Shawnda McKnight was born 20 Feb. 1966. She is the daughter of John "Coy" McKnight and Kathie ____. She is a trainer for BancOne in Columbus, Ohio. Children of Marc Edward Hinderlong and Shawnda Renee McKnight:
J1 Chivis Blake Hinderlong, born November 8, 2000. J2 Jhonnalyn Bree Hinderlong, born November 1, 2002.
---
Information about the Andrew Junkin line was supplied by
Joyce Junkin Cockerill
, September 2001, updated June 2005.
Her e-mail address is: jcockerill@cinci.rr.com.
---